RUMOUR grosso come una casa: il disco di Britney sarebbe terminato. A rivelarcelo è Aryan, l'insider di cui vi abbiamo parlato in questo articolo. Aryan afferma di possedere le tracce del disco e averle ascoltate ormai diverse volte. Ecco le sue parole:
"Sì, è la versione finale del disco. È praticamente la standard version. Anzi, ad essere precisi, la standard deluxe. È sorprendente come anche conoscendo già diverse tracce, riesca ancora ad impressionarmi per la loro grandezza, ancora di più adesso con le versioni finali. Onestamente potete aspettarvi il meglio di Britney in ogni brano, sono tutti estremamente potenti.
Non sentirete canzoni brevi, e la ragione principale è il tipo di sound adottato. C'è un grande uso di post-chorus, molti instrumentals. La più corta dura 03:31.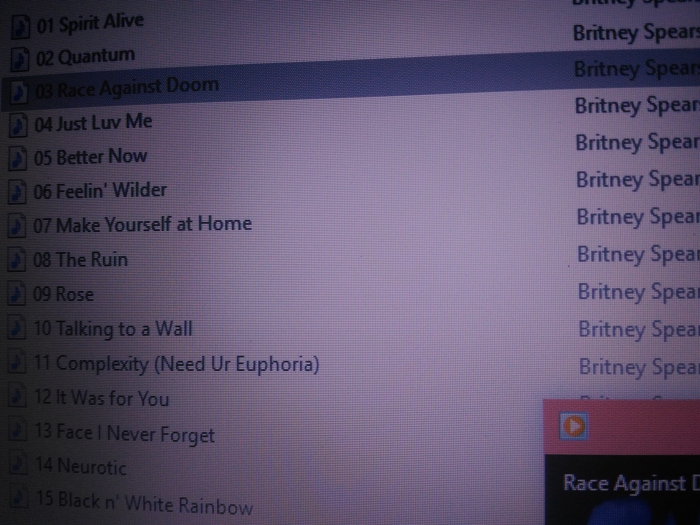 Come ho detto precedentemente, è un album sexy e dark, incentrato soprattutto sulle "mid-to-uptempo". Pensate a "Hold It Against Me", "Before The Goodbye" e così via (ma il sound è completamente diverso, non confondiamoci).
Aspettatevi un "parental advisory" in copertina, perché il contenuto esplicito è notevole, soprattutto in "Make Yourself At Home" e "Face I Never Forget" (beh, non proprio una faccia che lei dimenticherebbe…). Anche "Race Against Doom" e "Complexity (Need Ur Euphoria)" sono abbastanza controverse. E Britney vi da un avvertimento: 'non provarci nemmeno a cercare di capire la mia complessità'.
Il nuovo singolo sarebbe dovuto essere rilasciato l'11 marzo, ma dovrete aspettare fino al 18, perché è stato rimandato a causa di alcuni problemi con la registrazione del video. La release dell'album è pianificata per il mese successivo. Non dobbiamo aspettare tanto, non penate.
Questo è quanto. MA, se preferite credere ad altri "insider", bene, ignorate quanto avete letto e semplicemente aspettate.
Ah, le rimanenti 5 tracce stanno per essere terminate e distribuite nelle altre versioni dell'album. Quindi in generale, non è ancora terminato del tutto.
Non aspettatevi nessun leak."
Tracklist:
1. Spirit Alive
2. Quantum
3. Race Against Doom
4. Just Luv Me
5. Better Now
6. Feelin' Wilder
7. Make Yourself At Home
8. The Ruin
9. Rose
10. Talking To A Wall
11. Complexity (Need Ur Euphoria)
12. It Was For You
13. Face I Never Forget
14. Neurotic
15. Black 'n White Rainbow
Ribadiamo che questo è solo un rumour. Niente di ufficiale, niente di confermato. Ma neanche smentito.
State sintonizzati, questo periodo sarà molto, molto intenso.