La rivista OK! Magazine,
celebra con una cover il successo di Britney Spears ai Vma's 2008.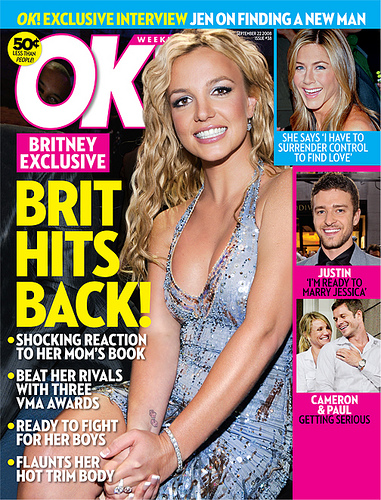 Il 7 Settembre, Britney Spears ha spiazzato il mondo sul palcoscenico degli MTV VMA's 2008: occhi limpidi,  forma smagliante e molto fiduciosa, un anno dopo la sua disastrosa performance, ha portato a casa tre 'MoonMen'. Dopo il feroce pestaggio dei concorrenti in tutte e tre le categorie  in cui è stata nominata (Best Female Video, Best Pop Video e Video of the Year) Britney non solo lha preso i suoi Moonmen meritatissimi,  ma ha dimostrato al mondo che è tornata. La vittoria, l'accettazione e gli applausi dei suoi colleghi sono solo una delle battaglie che Britney ha vinto. Il suo prossimo album, che OK! rivela in esclusiva verrà rilasciato dalla fine di dicembre, sarà una bomba pronta a colpire e a confermare il suo ritorno sulle scene. "E 'il mio miglior lavoro," ha detto con orgoglio Britney ad OK!. Ancora più importante è la battaglia di Britney e il suo sforzo per vincere la custodia dei suoi figli, Preston e Jayden, contro il suo ex-marito Kevin Federline. "Il suo obiettivo è quello di recuperare la custodia congiunta dei suoi figli, non appena il suo papà Jamie terminerà il compito di conservatore," dice una fonte che vuole restare anonima molto vicina alla famiglia Spears. Ma prima di allora, Britney sta organizzando un mega party per i compleanni dei suoi figli Jayden per festeggiare il secondo compleanno il 12 Settembre e Preston il terzo compleanno il 14 Settembre, con l'aiuto del nonno. "Voglio organizzare una tradizionale festa", ha affermato ad OK!. "Ho alcuni amici con figli che sto per invitare".  La sua mamma, Lynne Spears, ha pubblicato il suo nuovo libro intitolato Attraverso la tempesta: Una storia vera della fama e la famiglia in un Tabloid del Mondo. Anche se i blog di gossip più scandalosi suppongono dettagli speculativi, il libro è più sull'esperienza di Lynn come madre attraverso i momenti difficili di Britney segnalati all'Associated Press. "Indipendentemente da ciò che la gente possa pensare, Britney non è sconvolta del libro", dice una fonte ad OK!. "Dopo il duro anno passato, Brit e Lynne hanno un rapporto meraviglioso." Per ulteriori informazioni su Britney, la sua vita con i suoi figli e la famiglia e il suo prossimo album, dovremo attendere l'uscita del nuovo numero di OK! domani nelle edicole americane.
Thanks OK!